How to Test Financial Soundness of Rental Housing Properties
Release Date:
January 1937 (32 pages)
Posted Date:
February 10, 2021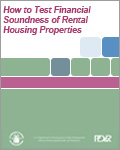 This historic booklet is a guide to determining the financial feasibility of a rental housing project and to estimating the maximum insurable mortgage such a project is likely to obtain. The publication, published by the Federal Housing Administration for use by property investors, provides information about concepts such as demand, value, expense, cost, returns, and capitalization. Additionally, the booklet instructs the reader on how to apply for mortgage insurance under Section 207 of the National Housing Act, and includes annotated application forms.

This report is part of the collection of scanned historical documents available to the public.