Increasing Service Availability to Seniors in Housing
Release Date:
March 1993 (239 pages)
Posted Date:
August 1, 2018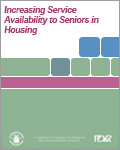 This final grant report for Grant #90-AM-0444, issued by the U.S. Administration on Aging, details the methodology and conclusions of a pilot program to provide expanded services to seniors living in the properties of six public housing authorities in New Hampshire. The project also involved developing a telephone consultation service to provide housing professionals with cost-effective access to professional social workers.

This report is part of the collection of scanned historical documents available to the public.