Indian and Alaska Native Housing and Community Development Programs Annual Report to Congress
Release Date:
December 1979 (47 pages)
Posted Date:
December 17, 2020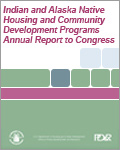 This historic publication is an annual report delivered by HUD to Congress, describing the extent housing and community development programs that address the needs of Indian and Alaskan Native communities. This report reviews the program activities carried out in the Fiscal Year 1979.

This report is part of the collection of scanned historical documents available to the public.