Inflation in the Standard Cost of Adequate Housing: Site I, 1973 – 1976
Release Date:
March 1976 (120 pages)
Posted Date:
April 29, 2021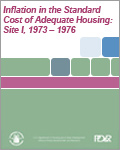 This historic working note analyses the inflation in housing costs in Brown County, Wisconsin from September 1973 to January 1976, and makes recommendations regarding benefits schedule of the Housing Assistance Supply Experiment (HASE). The publication demonstrates that the cause of the inflated housing costs was attributable to an increase in prices for domestic fuels and utility services. HASE, an experimental program to test the market impacts of providing housing allowances to low-income households, was the second component of HUD's Experimental Housing Allowance Program.

This report is part of the collection of scanned historical documents available to the public.