Key Issues Concerning the Long-Range Policies and Programs of HUD
Release Date:
May 1977 (62 pages)
Posted Date:
January 14, 2021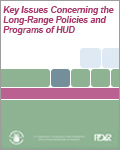 This historic draft agenda, prepared for a discussion seminar attended by top HUD officials in 1977, poses questions and points of discussion about HUD's mission, policies, and strategy. For example, the document asks readers to consider which groups HUD should regard as its primary constituents—middle-class homebuyers, local governments, or the poorest and most deprived urban citizens?

This report is part of the collection of scanned historical documents available to the public.