Landlord Knowledge and Evaluation of Housing Allowances: St. Joseph County, Indiana, 1975
Release Date:
May 1980 (91 pages)
Posted Date:
April 29, 2021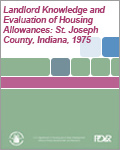 Using the results of 1,915 interviews, this historic report examines the initial and later attitudes of landlords in St. Joseph County, Indiana toward HUD's Housing Assistance Supply Experiment (HASE). HASE, an experimental program to test the market impact of providing housing allowances to low-income households with domiciles meeting minimum standards of decency, was the second component of HUD's Experimental Housing Allowance Program. The publication describes characteristics of landlords in the county, their knowledge of the program, how they evaluate it, and what effects they expected from it.

This report is part of the collection of scanned historical documents available to the public.