Lanham Act Amendment Hearings
Release Date:
April 1947 (56 pages)
Posted Date:
February 21, 2018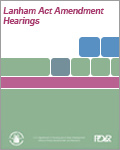 This historical publication is a 1947 record of hearings before the Congressional Committee on Banking and Currency of the House of Representatives pertaining to H.R. 2780, a bill to amend Section 502(A) of the 1940 Lanham Act. The amendment would increase, by $50 million, funding for the production of certain war housing.

This report is part of the collection of scanned historical documents available to the public.