Loans by Reconstruction Finance Corporation for Flood Relief and Other Catastrophes
Release Date:
March 1936 (5 pages)
Posted Date:
July 9, 2020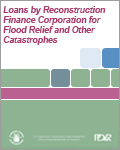 This historic report, prepared by the House Committee on Banking and Currency, addresses House Resolution 11968. This resolution addresses the authority of the Reconstruction Finance Corporation to issue rehabilitation loans for the repair of damages caused by floods and other catastrophes. The report describes the Committee's reception of the legislation, and outlines several amendments.

This report is part of the collection of scanned historical documents available to the public.