Low-Rent Housing
Release Date:
January 1945 (4 pages)
Posted Date:
July 9, 2020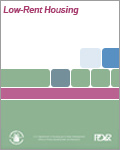 This historic pamphlet is an FPHA publication promoting low-rent public housing as an attractive, economical, and healthy alternative to slums. The document provides a history of then-contemporary public housing legislation, an overview of the rules and procedures governing the construction of new affordable housing, and an argument for the social good of well-maintained public housing.

This report is part of the collection of scanned historical documents available to the public.