Low-Rental Housing for Private Investment
Release Date:
January 1940 (19 pages)
Posted Date:
December 17, 2020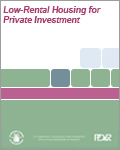 This historical publication promotes the development, rehabilitation, or purchase of low-rent properties by private firms as a form of investment. The authors argue that the demand for low-rent housing is consistent, with relatively little competition and relatively modest costs compared to more expensive types of development.

This report is part of the collection of scanned historical documents available to the public.