Lower Income Housing Assistance Program (Section 8): Nationwide Evaluation of the Existing Housing Program
Release Date:
November 1978 (123 pages)
Posted Date:
July 23, 2021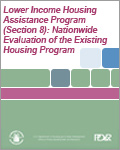 This historic publication summarizes the results of a nationwide evaluation of the Section 8 program for Existing Housing and is based on information collected in late 1976. The Existing Housing program exists for households to find existing housing units in the private market which have been inspected by Public Housing Agencies (PHAs) to make sure they are of standard quality. The PHAs then make rental payments to the owners on behalf of the households.

This report is part of the collection of scanned historical documents available to the public.