Managing Design and Development Downtown
Release Date:
March 1983 (23 pages)
Posted Date:
March 12, 2019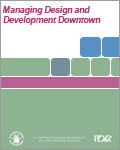 This historic document presents four articles from various authors on techniques for designing and managing downtown urban development. The articles originally appeared in a National League of Cities publication. Topics addressed include cultivating an urban image, leveraging an urban image for economic development purposes, and streamlining the local development process.

This report is part of the collection of scanned historical documents available to the public.