Managing Local Opposition to Affordable Housing: Strategies and Tools
Release Date:
December 1977 (32 pages)
Posted Date:
February 2, 2021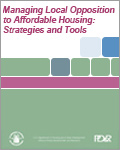 This historic document, produced by the Association of Local Housing Finance Agencies and the National Association for County Community and Economic Development with funding from HUD, addresses the phenomena of local opposition to affordable housing strategies. The authors address the potential motives for such opposition, and detail strategies for managing such sentiments within a community.

This report is part of the collection of scanned historical documents available to the public.