Manufactured Housing An Assessment For Shelter Industry Decision Makers
Release Date:
April 1983 (19 pages)
Posted Date:
February 21, 2018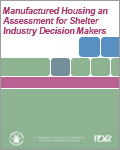 This publication is a working paper that provides an assessment of manufactured housing for consumption by housing industry professionals. The author evaluates the construction quality, costs, legal and tax status, and market appeal of manufactured units, and concludes that manufactured housing can help meet the nation's housing needs.

This report is part of the collection of scanned historical documents available to the public.