Market Intermediaries and Indirect Suppliers: First Year Report for Site I
Release Date:
September 1976 (37 pages)
Posted Date:
January 21, 2021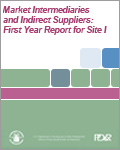 This historic working note reports on the activities and attitudes of mortgage lenders, real estate brokers, and housing repair professionals during the first year of the Housing Assistance Supply Experiment in Site I, Brown County, Wisconsin. The Housing Assistance Supply Experiment was a 10-year a research demonstration during which low-income households were provided with monthly cash payments in order to offset their housing costs; however, the program imposed minimum standards for dwelling units that often necessitated repairs. Participants rarely purchased new houses.

This report is part of the collection of scanned historical documents available to the public.