The Measurement of Wind Loads On A Full-Scale Mobile Home
Release Date:
September 1977 (133 pages)
Posted Date:
December 10, 2020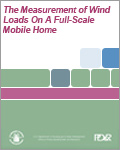 Prepared by Richard D. Marshall of the NBS' Institute for Applied Technology for HUD's Office of Policy Development and Research, this historic report is an experimental investigation of wind loads acting on a mobile home. The objectives of the investigation were to quantify the action of wind on a full-sized mobile home, formulate recommended loads for mobile home designs and anchoring systems to resist wind forces, and to measure deflections and identify failure modes using simulated wind loads.

This report is part of the collection of scanned historical documents available to the public.