Memorandum on Housing
Release Date:
May 1939 (12 pages)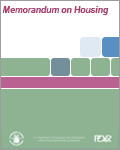 This historic memorandum, the fifth produced by the National Policy Committee, summarizes the issue of affordable housing in the United States. The publication was produced following the NPC's 1939 conference in St. Louis, and includes accounts of the discussions which took place there. The National Policy Committee was a civic organization concerned with political participation and the discussion of government policy.

This report is part of the collection of scanned historical documents available to the public.