Methods and Techniques of Financing Housing in Various European Countries
Release Date:
October 1951 (312 pages)
Posted Date:
August 1, 2018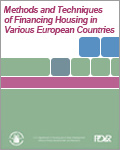 Translated from the original French, this document was produced in advance of the December 1951 meeting of the Economic Working Party of the Housing Sub-Committee of the Economic Commission for Europe. The report compares and analyzes techniques of housing finance in post-war West Germany, Austria, Belgium, Denmark, Finland, France, Italy, Norway, Netherlands, United Kingdom, Sweden, Switzerland, and the USSR.

This report is part of the collection of scanned historical documents available to the public.