A Report on Minority Group Housing in Houston, Texas
Release Date:
November 1953 (29 pages)
Posted Date:
August 20, 2019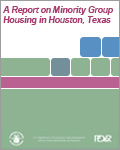 This historical document, prepared for FHA Commissioner Guy T.O. Hollyday, reports on the housing situation of African Americans and Latinos in Houston, Texas. These two groups at the time represented 25 percent of the city's population and endured housing problems including overcrowding, lack of utilities, and lack of access to conventional financing. The report provides photographs and descriptions detailing both poor conditions and exemplary new developments.

This report is part of the collection of scanned historical documents available to the public.