National Conference of Executives of Smaller Business, 1938 Report to the President of the United States
Release Date:
February 1938 (22 pages)
Posted Date:
February 10, 2021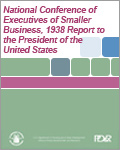 This historic report, compiled by the National Conference of Executives of Smaller Business and addressed to President Franklin D. Roosevelt, relays the nine conclusions of the Conference's Housing Group. These conclusions include a recognition of the nation's need for additional affordable and low-rent housing; the Conference's endorsement of the Wagner-Steagall Housing Bill; the Conference's approval of the impending formation of the Federal Housing Administration, Home Loan Bank, Reconstruction Finance Corporation, and other agencies designed to increase homeownership; the authors' advocacy of some exceptions to capital gains and undistributed profits taxes; and additional housing-related matters.

This report is part of the collection of scanned historical documents available to the public.