National Housing Agency Handbook
Release Date:
May 1947 (52 pages)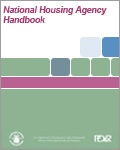 This historic handbook, prepared by the NHA's Office of the Administrator in 1947, details the programs, organizational structure, key personal, and activities of the National Housing Administration. The document outlines the duties, responsibilities, and powers of the administration, with descriptions of component offices and key programs.

This report is part of the collection of scanned historical documents available to the public.