National Housing Policy Task Force: Team IV Programs and Policies
Release Date:
June 1973 (195 pages)
Posted Date:
February 10, 2021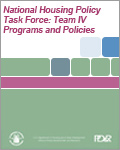 This 19-page historic paper discusses four federal tax proposals for incentivizing real estate investment, designed to complement several program alternatives at the time under consideration by the Housing Review Task Force. The document is a discussion draft intended for internal task force use.

This report is part of the collection of scanned historical documents available to the public.