Navy Arctic Hut (Mark I): Engineering Tests Under Controlled Conditions
Release Date:
October 1949 (180 pages)
Posted Date:
August 1, 2018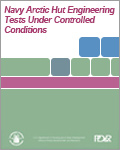 This historic report details a series of tests conducted as a part of a program to evaluate the suitability of the Navy Arctic Hut (Mark I) for advanced base use as a semi-permanent shelter under cold conditions. The tests were conducted at the proving ground of the U.S. Naval Advanced Base Depot, Construction Battalion Center, in Port Hueneme, California.

This report is part of the collection of scanned historical documents available to the public.