Neighborhood Strategy Areas—A Guidebook for Local Government
Release Date:
March 1978 (53 pages)
Posted Date:
April 1, 2019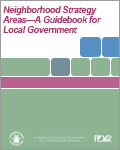 This historic guide was written for use by local government officials participating in the Neighborhood Area Strategy program, a HUD demonstration that provided local governments with special set-asides of Section 8 Substantial Rehabilitation funds for use in designated neighborhood areas. The guidebook explains the program's goals, requirements, and constraints, and provides instruction on preparing applications to the demonstration. Prepared by the U.S. Conference of Mayors and the National Community Development Association for HUD's Office of Policy Development and Research.

This report is part of the collection of scanned historical documents available to the public.