New Choices for Residents: the Opportunity and Empowerment Act
Release Date:
January 1993 (25 pages)
Posted Date:
July 9, 2020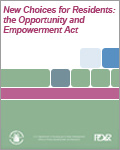 This historic publication describes the programs and reforms adopted as the result of the 1992 Opportunity and Empowerment Act. The document discusses proposed changes to public housing, the RESTORE program for troubled multifamily properties, homeownership vouchers, the Moving to Opportunity for Fair Housing Program, and the Save Havens for the Homeless program.

This report is part of the collection of scanned historical documents available to the public.