Thirteenth Report of the Tenement House Department of the City of New York
Release Date:
January 1932 (115 pages)
Posted Date:
April 10, 2018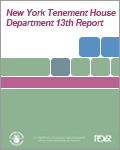 This report by the New York City Department of Buildings details the activities of the Tenement House Department during the year 1932. The document also describes deaths and diseases associated with tenements in the city, complaints related to tenements, and statistics pertaining to these topics.

This report is part of the collection of scanned historical documents available to the public.