Operation Breakthrough: An Overview of Operation Breakthrough Guide Criteria
Release Date:
April 1971 (28 pages)
Posted Date:
June 23, 2020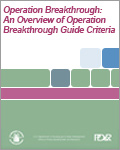 This historic report, prepared by the Center for Building Technology of the NBS' Institute for Applied Technology, provides an overview of the materials performance criteria developed by the Operation Breakthrough research team. Operation Breakthrough was a HUD demonstration project to test innovative building materials and methods which ran from the late 1960s to the early 1970s.

This report is part of the collection of scanned historical documents available to the public.