Operation Breakthrough Site Planner's Report: St. Louis, Missouri
Release Date:
January 1973 (29 pages)
Posted Date:
April 1, 2019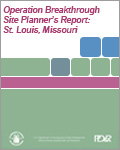 This historic document is a report from site planner Hellmuth, Obata & Kassabaum, Inc. to HUD regarding the Operation Breakthrough prototype site in St. Louis, Missouri. Operation Breakthrough was a program to rapidly add units to the housing supply in order to lower housing costs and encourage changes in the building industry. The report includes an analysis of the physical, cultural, and social characteristics of the selected Laclede East and West project sites, a conceptual site plan, and an account of the construction of the project.

This report is part of the collection of scanned historical documents available to the public.