Guide and Format for the Preparation of a Housing System Testing and Analysis Program for Operation Breakthrough Housing Systems: Volume III – Single Family Attached
Release Date:
June 1970 (89 pages)
Posted Date:
August 1, 2018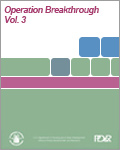 Office of Research and Technology, U.S. Department of Housing and Urban Development Intro text: This preliminary document provides guidance to housing system producers participating in the testing and analysis of housing systems for HUD's Operation Breakthrough demonstration project. Volume 3 of 4.

This report is part of the collection of scanned historical documents available to the public.