PHA Administrative Functions and Fees: an Analysis
Release Date:
May 1977 (180 pages)
Posted Date:
June 9, 2020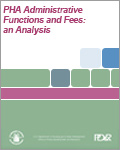 This historic study, conducted by Westat Research for HUD's Office of Policy Development and Research, examines the key administrative functions performed by public housing agencies in support of the Section 8 program. The researchers describe the administrative functions carried out by PHAs, analyze the costs of these services, and measure the relative efficacy of alternative administrative strategies.

This report is part of the collection of scanned historical documents available to the public.