Case Studies of Effective Management Practices within Public Housing Agencies, Volume 3: Rental and Occupancy
Release Date:
November 1985 (220 pages)
Posted Date:
June 22, 2021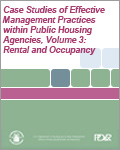 The third in a six-part series, this historic report addresses the rental and occupancy systems of two public housing authorities (PHAs). This volume showcases a medium and large PHA, in the form of the Fayetteville Metropolitan Housing Authority in Fayetteville, North Carolina; and St. Paul Public Housing Agency in St. Paul, Minnesota, respectively.

This report is part of the collection of scanned historical documents available to the public.