People, Cities and Trees
Release Date:
October 1970 (18 pages)
Posted Date:
June 9, 2020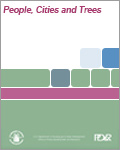 This historic pamphlet, published by the USDA's Forest Service, describes the many uses of trees in cities and the importance of urban forestry. Trees improve cities by adding shade, conserving soil and water, improving air quality, reducing noise pollution, providing habitat for wildlife, and contributing natural beauty. This 18-page publication describes issues related to conserving and utilizing urban trees.

This report is part of the collection of scanned historical documents available to the public.