Physiological Objectives in Hot Weather Housing: an Introduction to Hot Weather Housing Design
Release Date:
June 1970 (85 pages)
Posted Date:
June 9, 2020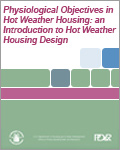 A 1970 reprint of a 1953 publication by HUD's Office of International Affairs, this document provides information on the basic physiological principles that must be considered in the design of housing for hot climates. This information was intended for use in nations participating in HUD's technical assistance program for shelter improvement. This publication was revised in May 1963 and reprinted in June 1969 and June 1970.

This report is part of the collection of scanned historical documents available to the public.