Planning Effectiveness and 701: an Evaluation
Release Date:
October 1967 (191 pages)
Posted Date:
August 1, 2018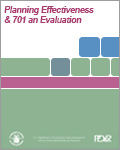 This report, prepared for the U.S. Department of Housing and Urban Development, assesses the 701 Urban Planning Assistance Program, authorized by the Housing Act of 1954. The study was undertaken to determine whether or not the local planning programs financed through 701 had been effective as instruments of local government.

This report is part of the collection of scanned historical documents available to the public.