Playground Equipment Specifications for War Housing Projects
Release Date:
June 1944 (12 pages)
Posted Date:
June 23, 2020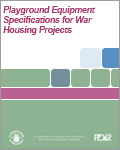 This historic manual provides specifications for playground equipment to be used in the playground areas of temporary war housing projects. The bulletin provides tables specifying the type and quantity of equipment appropriate for projects of various sizes and purposes, which have or do not have a child services building.

This report is part of the collection of scanned historical documents available to the public.