Policies and Procedures for Community Facilities Operations: Volume VI, Book I
Release Date:
September 1965 (304 pages)
Posted Date:
May 11, 2020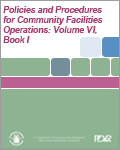 This historic publication, prepared by the Community Facilities Administration of the HHFA, is part of a series of manuals outlining policies and procedures for programs operating out of the community spaces of affordable housing developments. This publication is the first book of the three-book set comprising the series' sixth volume, and describes community facilities programs, their policies and procedures, and provides guidance on applying the technical instructions described in the second book.

This report is part of the collection of scanned historical documents available to the public.