Position Classification Standards for Directly Operated Projects
Release Date:
September 1944 (191 pages)
Posted Date:
June 9, 2020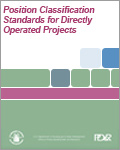 This historic bulletin provides classification standards for job positions in offices and housing developments operated by the Federal Public Housing Authority. A revised version of a previous bulletin, this document was changed based on the input of local housing authorities regarding their staffing needs and hiring practices. The publication provides standards for both administrative and maintenance positions.

This report is part of the collection of scanned historical documents available to the public.