Position Classification Standards for Regional Offices
Release Date:
March 1943 (264 pages)
Posted Date:
April 24, 2020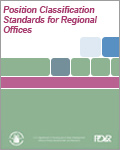 This historic document, prepared by the personnel division of the NHA's Federal Public Housing Authority (FPHA), provides class specifications and employment standards for positions held by employees of regional FPHA offices. The text provides details about 35 distinct positions, from accountant to project planner.

This report is part of the collection of scanned historical documents available to the public.