Post Occupancy Evaluation of Housing
Release Date:
December 1978 (486 pages)
Posted Date:
July 23, 2021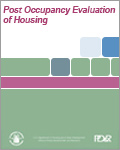 This historic report provides an analysis of the use of Post Occupancy Evaluations (POEs) of HUD-funded housing during the mid-1970s. The researchers found that few housing agencies performed POEs, and of those that were performed, less than 20 percent yielded sufficient data for utilization. Most POEs were conducted by university departments, cost less than $5,000, and did not use statistical analysis.

This report is part of the collection of scanned historical documents available to the public.