Postwar Prospects for Income and Expense on Low-Rent Housing Projects
Release Date:
December 1944 (7 pages)
Posted Date:
July 9, 2020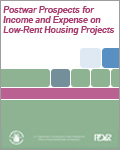 This historic report, delivered by the FPHA to its regional directors and to the Federal-Local Relations Committee of the National Association of Housing Officials, discusses the post-war financial feasibility of FPHA projects. During the war, FPHA developments housed war workers and their families in addition to low-income households, increasing the revenue stream of said developments substantially. This report discusses means for supporting those developments after war production ceased and associated workers returned to the peacetime housing market.

This report is part of the collection of scanned historical documents available to the public.