Price Effects of a Housing Allowance Program – a Final Report of the Housing Assistance Supply Experiment
Release Date:
September 1982 (90 pages)
Posted Date:
January 27, 2021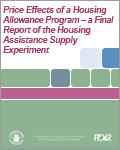 This historic document is a final report of the Housing Assistance Supply Experiment, a demonstration during which low-income households were provided with monthly cash payments via housing assistance offices in order to offset their housing costs. The report addresses the impact of the experiment on the overall price of housing and housing services in the housing markets of Green Bay, Wisconsin and South Bend, Indiana. This report finds that even at maximum-impact years, the experiment increased the price of rental housing by at most only a few percentage points.

This report is part of the collection of scanned historical documents available to the public.