Price Increases Caused by Housing Assistance Programs – Housing Assistance Supply Experiment
Release Date:
October 1980 (42 pages)
Posted Date:
January 21, 2021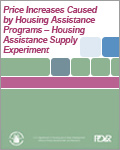 This historic report, based on a briefing presented to HUD's Assistant Secretary for Policy Development and Research Donna E. Shalala in October 1979, addresses the impact of housing assistance programs on the market cost of rent. The report was authored by the Rand Corporation, on behalf of HUD, as part of the Housing Assistance Supply Experiment.

This report is part of the collection of scanned historical documents available to the public.