Problem Families in Public Housing
Release Date:
January 1956 (19 pages)
Posted Date:
February 2, 2021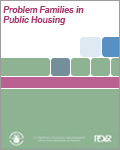 This historic document is a 13-page summary of a larger report by the same name compiled by the Research and Statistics Division of the Housing Authority of Baltimore City, Maryland, pertaining to 'difficult', 'undesirable', and 'troublesome' families living in public housing, a phenomena of great concern in the post-war period. By conducting interviews and surveys with management staff at 14 public housing sites, the report's authors attempt to characterize features of such families, propose the prevalence of these households, extrapolate root causes, and suggest interventions.

This report is part of the collection of scanned historical documents available to the public.