Procedures for Conducting Field Audits of Tenant Files at Low-Rent Projects
Release Date:
April 1949 (17 pages)
Posted Date:
July 20, 2020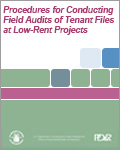 This historic bulletin, written for use by U.S. Public Housing Administration auditors, outlines policies and procedures for scheduling and carrying out field audits of tenant files at public housing projects. The document describes practical and regulatory considerations and makes recommendations regarding filing systems.

This report is part of the collection of scanned historical documents available to the public.