Progress Report on Federal Housing Programs
Release Date:
May 1967 (167 pages)
Posted Date:
July 9, 2020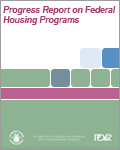 This historic report, prepared by the Committee on Banking and Currency's Subcommittee on Housing and Urban Affairs, describes the status and progress of each federal program on housing and urban development. The report addresses the 1966 U.S. housing market and the status of several dozen federal programs.

This report is part of the collection of scanned historical documents available to the public.