Proposed Sale-Rental Housing Project
Release Date:
October 1951 (60 pages)
Posted Date:
September 13, 2018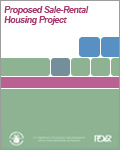 This historic report proposes a new model of low-income housing in Puerto Rico, to accommodate households otherwise ineligible for public assistance which were displaced by slum clearance and redevelopment projects. The proposed housing type would complement Federal housing projects on the island, with the possibility of replacing them should that housing type become unavailable.

This report is part of the collection of scanned historical documents available to the public.