Broadening of the Base of Public Housing: Addresses Delivered at the Ninth Annual Meeting of the National Public Housing Conference
Release Date:
January 1940 (20 pages)
Posted Date:
January 8, 2021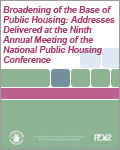 This historic publication is a collection of addresses delivered to National Public Housing Conference's ninth annual meeting, which convened on January 26th and 27th, 1940, in Washington, DC's Willard Hotel. The publication is prefaced with a message from President Franklin D. Roosevelt.

This report is part of the collection of scanned historical documents available to the public.