Public Housing During the War: the Work of the Federal Public Housing Authority
Release Date:
June 1945 (45 pages)
Posted Date:
July 20, 2020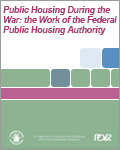 This historic publication discusses the substantial war housing efforts undertaken during World War II, and outlines the work of the Federal Public Housing Authority (FPHA). Beginning in February 1942, the FPHA was in charge of the production and management of public war housing. By early 1945, the authority had provided nearly 700,000 war housing units, some 77 percent of the total number of public war housing units produced during the conflict.

This report is part of the collection of scanned historical documents available to the public.