Public Housing Projects in Transition: 25 Case Studies
Release Date:
November 1976 (54 pages)
Posted Date:
January 14, 2021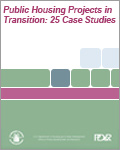 This historic report chronicles the changes observed in 25 public housing developments. The developments were selected for study based on the changes to their management scores between the years of 1973 and 1976, and came from 12 public housing authorities. Following selection, researchers deployed an investigator to each site in order to determine potential causes for the score changes.

This report is part of the collection of scanned historical documents available to the public.