Engineering Report on Purdue Research Foundation Experiments in Connection with War Workers' Housing
Release Date:
March 1944 (111 pages)
Posted Date:
August 1, 2018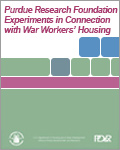 This historical report communicates the results of experiments conducted by Purdue University's Research Foundation on the structural integrity of quickly-produced, low-cost housing units constructed to accommodate wartime workers during the later years of WWII. The purpose of the experiments was to discover faster, cheaper methods of structurally sound home construction.

This report is part of the collection of scanned historical documents available to the public.